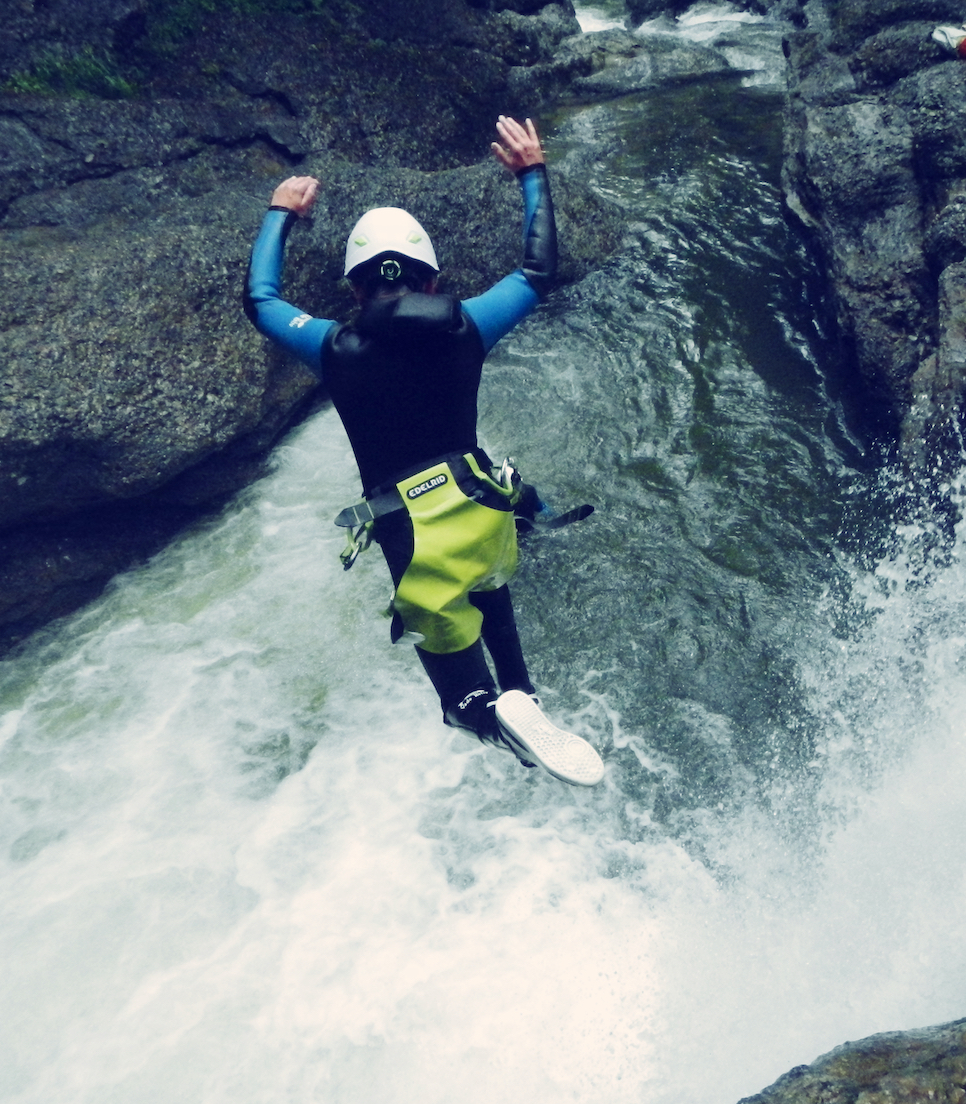 Canyoning Basic
Bestehe deine Canyoning-Taufe und erleben dein Stimmungshoch in der tiefen Schlucht!
Vacation Style
Canyoning Basic
Are you craving a special and exciting experience out in nature? Then our beginners' tour is the perfect choice for you. Jumps, abseil points and slides are the great highlights of every Canyoning tour. Of course, as we care about your safety, you are always accompanied by one of our state-certified guides. Already convinced? Then look forward to your next adventure! A Canyoning tour has something to offer for everyone, no matter if you're an outdoor-enthusiast or a beginner.
The Allgäu offers perfect conditions to experience canyoning in Bavaria. Sliding on smoothly ground rocks, jumping into deep pools with clear mountain water, abseiling along rushing waterfalls - the adventure canyoning fascinates all outdoor enthusiasts in the Allgäu.
Let yourself be carried away and dare to experience the fascination of canyoning in the Allgäu. Thanks to many canyoning gorges and different difficulties, canyoning in the Allgäu is suitable for everyone.
Canyoning Allgäu is a safe adventure for all requirements. The selection of canyoning tours that the Oberallgäu in southern Bavaria offers is unique in Germany. Between Oberjoch, Sonthofen and Oberstdorf you can choose between many different canyoning tours for your excursion.
The trip inclusions and exclusions at a glance
What's included
State-certified canyoning guide
Planning, implementation and follow-up of the tour
High quality canyoning belts and rope material
Complete high quality canyoning equipment: wetsuit, neoprene body, canyoning helmet, neoprene socks, canyoning harness
Free photos of the best moments of the tour
Info! Sorry No Review for this Trip