VIVID Cutstomized Travel is founded from our passision of Allgäu since 2016. We are the travel expert for your next dream trip. Extraordinary, special, unforgettable - make your journey into an experience! Our home base is Allgäu but we are professional all around Europe and China. Whatever we plan, organize and create with and for our customer, our motto is Travel Dream! Travel VIVID!
Brand Interpretation:
VIVID – has two meanings: one is taken from English word 'vivid', meaning lively and active. After coming to Allgäu, facing the majestic nature, so many interesting activities are waiting for you, you can't helping being active. The second is taken from VIVI in Deutschalnd. Deutschalnd is "Germany" in German, meaning that the founder Vivien is looking forward your coming to Germany.
Logo Design:
The main color of the Logo is taken from the Bavarian State Flag where the Allgäu Scenic Area is located. The blue and white flag of the State Flag symbolizes the blue sky and white clouds of Bavaria. The two staggered peaks symbolize the layers of Alps, surrounded by auspicious clouds, and contain the spirit of luck and the good wishes for the future. The two peaks and the cloud resemble the inverted letter VVD, and the mirror reflection of the brand VIVID, which means that the green mountains and waters of Allgäu are like the mirror of the sky, romantic and beautiful.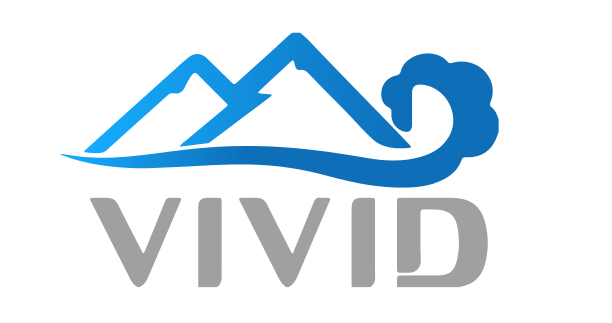 Qualification