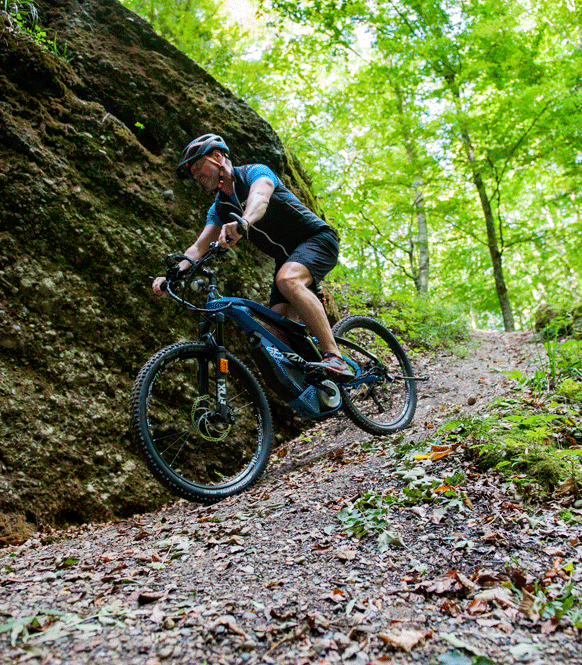 3-day Allgäu High End E-biking Tour
Action & adventure in the most spectacular regions of Europe on one of the best E-bikes in the world!
Vacation Style
3-day Allgäu High End E-biking Tour
360°-Service
Great upscale hotels. All meals included (except on one-day break). And also a service mobile for all cases. All this awaits you with our 360° service.
An experienced and trained tour guide, who knows every meter of the tour, guides you in a group of max. 10 people to the most picturesque places and uses the most scenic route to get there. Our service van waits at the end of every leg with a richly filled picnic table. While you enjoy the spectacular view with a freshly prepared latte macchiato, our technician supplies your e-bike with a fully loaded replacement battery, if necessary.
We stay in charming hotels of the upper class category, where a welcome drink awaits you and your luggage is waiting for you in your room. Naturally, we take care of check in and out for you (from/to starting airport) as well as the entire logistics of the e-bikes, leaving you free to concentrate only on the upcoming adventure.
High-End-Bike
With the "Spitzing", the top model of M1 you are guaranteed riding pleasure and speed. We provide you with absolutely full batteries and a top-maintained high-end bike.
These S-Pedelec with carbon frames are one of the best e-bikes in the world. Its powerful 500 watt motor reaches top speeds of 45km/h and also delivers an unbelievable maximum Torque of 120 Nm – as much as a small car. More than enough to really push your limits! On asphalt, sand, grit, grass, gravel and even in deep snow.
In the highest of the 5 pedal assist levels, your power is more than quintupled, thanks to the revolutionary motor. Thus pushing your boundaries immensely – with a spectacular effect on your fun level. However, you will rarely need to fully exploit the M1 Spitzing's superior riding performance. Its main purpose is to let you to enjoy every stage of the tour, all the while leaving you with enough energy reserves for each stage, and also to optimally balance the differing fitness and experience levels within the group.
Be part of adventure
Your trained and knowledgeable local guide will lead you through breathtakingly beautiful landscapes in a small group – adventure and pure enjoyment!
On our guided e-bike adventure tours through Allgäu's most beautiful regions, you ride on the high end e-mountain bike M1 Spitzing – one of the most powerful e-bikes in the world. It is perfect for all terrain and opens up new possibilities that, until recently, were unthinkable.
Ride confidently and comfortably on dirt roads, sand and forest tracks. Enjoy spectacular views and cover astounding distances with demanding altitude profiles, whether you're a hobby rider or an aspiring tour rider.
How much you push yourself is up to you. The M1 Spitzing's amazing performance enables you to ride together as a group (of up to 10 people), despite differing age and fitness levels- without some members of the group being challenged too little and others being pushed too hard.
On top of that, we offer a 360° service that anticipates every wish – an experienced guide, who has good knowledge of the region, a service van as an escort vehicle, picnics in the countryside, culinary highlights in the evening, as well as lodging in high class hotels.
Meeting place
You organize the arrival and departure to the respective starting point of the journey; from there you enjoy our exclusive all-round carefree service including shuttle service.
Trip period: 3 days
Total altitude covered: ca. 6.840 m
Total kilometres: 306km
Group size: 10 participants + 1 Tour guide
The trip inclusions and exclusions at a glance
What's included
2 nights including breakfast and dinner (drinks excluded) ?double room. If single room, the deviation 50 € / person?
Snacks and picnics during the tour
3 days Spitzing Evolution (S-Pedelec)
Service vehicle as support vehicle
Tour guide
Luggage service
battery replacement
spare bike
repair
Info! Sorry No Review for this Trip
Day 1

Memmingen – Bregenz | 93 km

Welcome? We meet in Memmingen. After a small snack in the M1 flagship store, you will get to know your tool, the "Spitzing", during a briefing. To warm up, we start to the southwest on low-traffic, winding asphalt and forest roads through the beautiful Westallgäu, heading towards the Alps. Having arrived at Pfänder, which is over 1000 m high, we enjoy the breathtaking view of Lake Constance, situated 600 m lower. Then we head towards Bregenz, where we check in at our hotel and regain the calories burned during the day in the city.

Day 2

Bregenz - Füssen | 110 km

Good morning! After a delicious breakfast the way proceeds towards east – to Bregenzerwald. Again and again we meet the typical Allgäu mountain farms. We ride uphill and downhill along the famous Nagelfluhkette. At up to 1200 m we enjoy fascinating views of the Allgäu Alps. Sublimated over the spectacular Allgäu mountain lakes, our path continues over breathtaking mountain ridges. Once back down, we have reached today's goal Füssen. On request, we organize a visit to the world-famous royal palaces Neuschwanstein and / or Hohenschwangau (tickets not included in the tour price).

Day 3

Füssen – Memmingen | 103 km

Give everything once again! After a typical Allgäu breakfast, we saddle up again and ride towards Forgensee. Through forests, fields and the typical small Allgäu villages, past hidden lakes. Experience Allgäu from a different perspective. Our route continues through the Allgäuer Voralpenland before we arrive again in the afternoon in Memmingen. With a glass of sparkling wine and a small snack in the M1 flagship store, we look back at the last three days. An Allgäu "Pfiat eich" and see you soon.